Kadmi Ethnic Village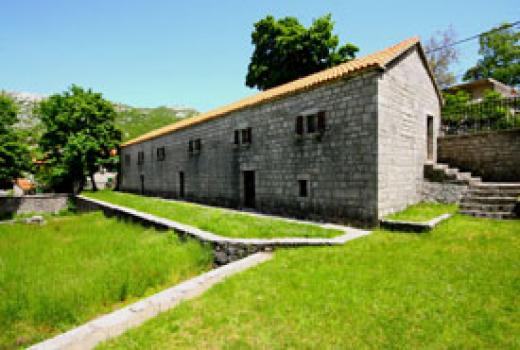 Not far from Cetinje, the Montenegrin capital celebrated in song, in Njeguši, the birthplace of Njegoš, there is quite the little paradise on earth – the Kadmi Ethnic Village. Nested in the scenery of untouched nature, at an altitude of 2000 ft, it is a veritable sanctuary for man and physical and psychological leisure. Surrounded by proud Mount Lovćen, the village resonates with an authentic Montenegrin atmosphere and tells the history of the celebrated Petrović dynasty. In its immediate vicinity is the home of our greatest poet and ruler, Petar II Petrović Njegoš. The village itself was envisaged as a place that sends you back in history, back to the life of ancestors, reminiscent of their bond with their birthplace and hearth, and their way of life.
Kadmi is a relatively novel ethnic village. Three years ago, it came to Milo Kadija from Cetinje, as Montenegrins would say, to create something authentic of Njeguši to be a source of pleasure for himself, his descendants, and tourists coming to learn of Montenegrin customs. He opened up a national restaurant and came to the idea of creating a small ethnic village. The idea was implemented and there you have it – Milo Kadija's Kadmi is open and serves for many, both local and foreign, as an escape from harsh reality.
The warmth of the restaurant packed with national symbols delights each who visits, and there is thankfully plenty of room for all, as many as 250. Its special charm is in winter, when people crowd at Milo's to warm up. A fireplace is erected in the middle of the restaurant, and foreigners and Montenegrins gather around it to warm their frostbitten hands, while the table waits for them with the best of Njeguši prosciutto and cheese. Priganicas (Montenegrin donut) with cheese or honey are an essential part of domestic cuisine, always on Milo's table. Home-made rakija (schnapps) is also always there, for the blood to better course through the veins. After they have warmed up, both those who understand the lyrics and those who don't dance and sing to native Montenegrin songs. A veritable home atmosphere. Those who come once, says Milo, always return. They can't help it but feel once again a little part of our atmosphere, dance to the Oro (Montenegrin dance), have a taste of Njeguši prosciutto. Old and young cheer – no limits exist. The warmth of the hearth and the generosity of the people makes one forget the cold and the snow, unavoidable during the winter in Njeguši. The mountain breeze refreshes in the summer with its special charm and calms and inspires. Milo has thought of everything, so he built a magical terrace in front of the restaurant with 150 seats. All it takes is to have a seat, relax, and let your eyes wander into the distance, while Mount Lovćen defies you with its greatness.
The owner Milo tells us that his ethnic village often has visitors, both domestic tourists and foreigners, which we saw for ourselves. The place is especially crowded, he says, during winter and summer months. "The place was packed for New Year's. Both old and young came together, drank, ate, and danced till morning. I danced with them like a young man, too!" boasts Milo. Occasionally he is too tired, so he gives over the work to his son Mladen. "He's young, let him work!" says Milo.
10 little houses or, as they are called more often today, 'bungalows' are right behind the restaurant. The bungalows have a total of 60 beds, bathrooms, and heating, so they make you feel as if in your own house, comfortable and warm, as we verified. We ran into plenty of foreigners. Asked what he thought of the ethnic village and whether he was satisfied, a Slovenian called Jože told us, "I fled the city romp by coming to the right place. It's paradise here. I simply can't believe it. I've been here for ten days and am staying more, for sure. The environment, nature, food, the bungalows, and service – everything is perfect!" Cetinjens Ilija Martinović and Luka Kaluđerović told us they visit Milo's almost every day. "It's not far away. We come here, especially in the summer, and enjoy. Milo always welcomes us warmly!"
Lovers of horseback riding have at their disposal horses and ponies. Likewise, all those who cannot ride but want to learn can, during their stay in the village, sign up for riding school, where with the help of a professional instructor they will learn to ride in a short time. Those recreationally minded also have hiking and jogging paths, and a biking path.
Tourists are most interested in and intrigued by the birth home of Montenegro's greatest poet and ruler from the Petrović dynasty, Petar II Petrović Njegoš. The house is in the immediate vicinity of the ethnic village, so it is impossible to stay in Kadmi without visiting Njegoš's house. Thanks to the immense kindness of our guide Rako Popović, who has for 37 years been the host to this building and who has no working hours (cases where he opened up the building to visitors in the late hours of the night are recalled), we stepped into the birth home of Montenegrin rulers and were for a moment part of a time gone by.
Rade Tomov took his first steps and spent his early childhood in this house. Vladikas (prince bishop) Danilo, Sava, Vasilije, Petar I, and knjaz (prince) Danilo – rulers who ruled over Montenegro for 222 years – were born in this house. Today the house is a museum whose interior and exhibit show a wealthier Montenegrin home from the beginning of the 19th century. The house is made up with ethnographic material and beautiful examples of craft weapons, the unavoidable decoration to every Montenegrin household. Painting and other materials provide additional information on vladika Petar II Petrović and the Petrović Njegoš dynasty.
In the Kadmi Ethnic Village, you will rest, enjoy beautiful sights, and never be bored. Each year the Njeguši Games are held in Njeguši as part of the Njeguši Cultural Summer. The event consists of sporting matches and a knight tournament. There is futsal, basketball, plojka (similar to bocce or bocha but played with flat rocks or plojkas), tug of war, track, darts, and chess for sporting matches; and shoulder stone throw, stone throw between the legs, stone throw over the head, log throw, disk throw, the long jump, and a running race in the knight tournament. This is how Njegoš describes a Montenegrin youth in the Njeguši games in The Mountain Wreath:
Nowhere in all these lofty hills
Was bred a youth as such.
He was in truth a very winged hero!
I've watched him leaping with his comrades:
His standing jump was fourteen feet;
And running, he did twenty-four!
He'd clear three horses with one leap!
Why should one hide what really is?
Such a grey falcon ne'er before
Did a Montenegrin bring to birth!
And that is what the Njeguši knight games are like in the ethnic village.
We had ourselves a rest, enjoyed the beautiful surroundings of Njeguši, saw the sights of tall Mount Lovćen, had a talk with Milo Kadija, talked to tourists, and returned to the past for a brief moment. It was magical to stay here and become one with authentic nature. The Kadmi Ethnic Village, home to all who come to Njeguši, remains, together with Milo, to tell the story of Montenegro and Njegoš and a sanctuary to all generations and nations, and all those who come once and return yet again, for the village leaves an indelible mark on their hearts.