On past events in the media: Historical Facts or Alternative Narratives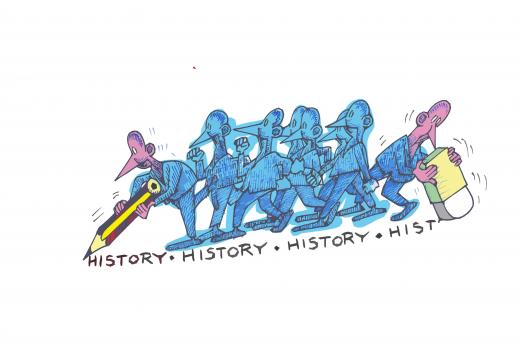 On past events in the media: Historical Facts or Alternative Narratives
Historical events are most often being subject of public speech by those involved in politics - especially daily political affairs. Analyzes of traditional media and online platforms coverage show that claims about past events are not always accurate or complete. Alternative historical narratives support divisions and are used to justify certain political positions, analysts say.
The interpretation of history in the public communication performed by political actors is not necessarily a reflection of their individual political stance or (lack of) knowledge. Normatively speaking, when articulating their public decisions, attitudes and messages, political actors have various consultation options with their formal or informal advisors or closest associates. In addition, political actors have the opportunity to seek and obtain more information before the statement is made, in consultation with the professional community, the civil sector, the professional literature or mainstream public opinion. This allows the subject to be further and even in-depth informed when making decisions in general, and therefore decisions about the messages he disseminates, especially when it comes to topics that are not in the subject area of the politician, such as history.
At the same time, it seems that political actors in BiH, predominantly non-historians by profession, could not wish for a better political environment for invoking history in public communication. In today's BiH, it seems that every day offers an opportunity for political actors to say something, to the media or the public, about a former warzone, war heroes or victims[1]. To give just a few examples, the media have reported about statements given by representatives of municipalities / local authorities, prime ministers, ministers, presidency members, even youth wings of political parties will interpret history events.
The shifts of political regimes accompanied by armed conflicts in the distant and recent past have produced seemingly innumerable reasons for marking certain dates and referring to the events from the past, through various forms, which are repeated in annual cycles. The most inspiring periods are certainly the wars of the 20th century. Views on the events from the period '92-95, such as qualifying war crimes, including both the resolved cases with convictions and those that are still unresolved[2] remain particularly sensitive.
Journalist and political analyst Tanja Topic believes that "what often happens is that some politicians use events from the past to 'justify' other events from the recent past and thus legitimize their own positions."
According to her, political actors choose the moments to communicate these types of content in their statements, which is especially "expressed when celebrating national holidays or historical dates. At the same time, this choice is selective and one-sided - events are chosen majorly to emphasize the positive role of politicians, ideologies, behind which these politicians stand and very often serve to build national muscles and strengthen national ranks".
In various occasions and situations, such as pre-announced or ad hoc events, rallies, press conferences, ceremonies, commemorations, ceremonial academies, TV interviews, the public is reminded of various events from the past, by political actors making claims for which it should be assumed that they are true (unless their untruth is proven).
Borislav Vukojevic, Senior Assistant at the Department of Communication at the Faculty of Political Science, University of Banja Luka, believes that historical events are a good ground for fact manipulation.
"Wikipedia is still a battlefield for the 'monopoly on the truth.' Probably the most famous example is Nikola Tesla, where we have a debate almost every day about the nationality of this eminent scientist ", says Vukojevic and adds that historical facts in public speech are most often misused through the logical error innuendo, which means that unverified and inaccurate he speaks to the claims as if they were a historical fact. This kind of speech can most often be recognized when the speaker uses phrases and sentences like 'history has shown' or 'the historical fact is that we are victims'. So this is classic misinformation. "
Some claims get verified
The claims of political subjects about events from the past do not always have to be true, this is confirmed by some cases of verification of this type of content in the media. For example, an analysis of the Raskrinkavanje.ba platform recently stated that "substantially incorrect interpretations of the Constitution of Bosnia and Herzegovina have become commonplace in articles in the local media, and in public appearances of individual politicians in Bosnia and Herzegovina." In addition, the "traditional attempts to rewrite history and falsify facts" warn the traditional media, and politicians themselves condemn each other for "falsification of history".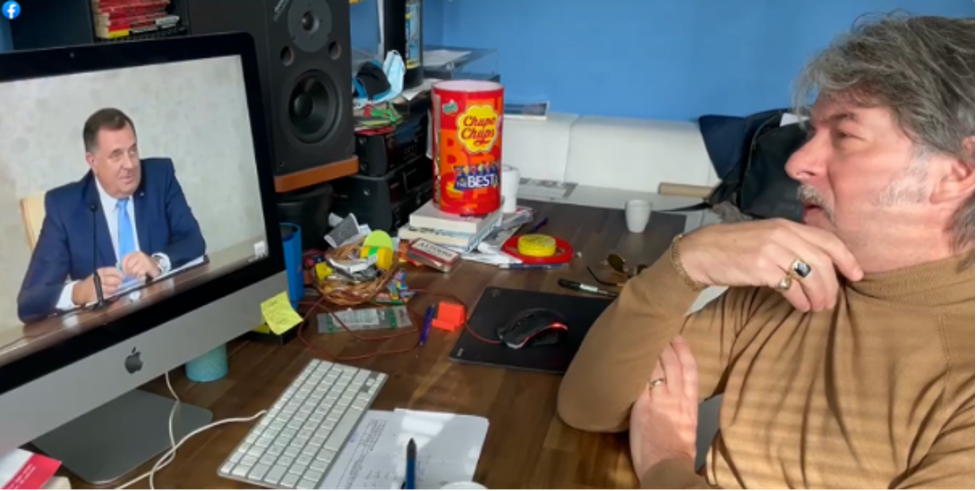 PHOTO: Slovenian-origin author of the hit song "Pukni zoro" published in October 2021 a video reaction to the statement of a high official in BiH, who stated at a press conference that the score was sung by soldiers in the First World War (photo source: Facebook)
Tijana Cvijeticanin, one of the founders of the platform Raskrinkavanje.ba (Debunking), says that narratives of alternative war history occasionally appear in the media, especially when certain anniversaries are approaching.
Speaking about the verification process, she says that it depends on what was said, as for any other type of content. The verification method depends on what the content of the statement is. In some cases, it is necessary to consult historical material, and in others court judgments, if any: "The result of the verification must be verifiable and clear, with clear sources so that everyone else can have an insight into it, and this is achieved by standard journalistic investigative methods".
"When it comes to the attitude of the media towards past events, the principle of using court facts is sometimes ignored by propaganda media, and verdicts are treated as something that should be questioned again," said Cvjeticanin, emphasizing that there is no better factual source of information than court rulings, that include data from investigation, testimonies and forensics where it could have been conducted. These are facts established by systematic work of people for whom it is a job. In cases which have no verdict, she adds, if something that is confirmed and closest to the facts cannot be found, then the assessment of such statements is not included.
Allegations related to the past have been evaluated on several occasions by the Istinomjer platform, and they referred more often to the recent history of BiH, the author of this platform Dalio Sijah, told Mediacenter.
"So often we could hear from Republika Srpska officials that BiH was formed in Dayton, that it was 'composed' of two entities, but we also evaluated statements related to the Srebrenica genocide, the existence of the Bosnian language, public holidays names of streets and institutions, and others".
Sijah also claims that politicians (in relation to the media and the civil sector) and people close to political parties refer to history more often in their speeches, and "most often approach to the use of history is irresponsible, events put out of context, interpreted unilaterally, and very often in an offensive or inappropriate way. Regarding the war in BiH since '92. to '96. Court verdicts are often ignored, convicted war criminals are glorified, and revisionism is present in the interpretation of historical events, such as the People's Liberation War (Yugoslavia) and the suffering in Jasenovac.
(Expert) public
Lejla Causevic, a history teacher at the Second Gymnasium in Sarajevo, says you can rarely hear someone in public refers to historiography or historians when talking about the past.
"From the perspective of one historian, I can say that it is difficult for me when I hear misinterpreted or used historical events, because I know that they will only be used for personal or partisan promotion. Politics, like everything, uses history only if it benefits the individual, the political party or the political trends".
Causevic notes that almost no media or perhaps only a few, unfortunately, verify the truth of claims used in this context, and the profession rarely reacts to such untruths, sometimes in a TV show or interview. She emphasizes that media literacy in our society is at a very low level, so that such claims become "true" after a certain period.
The fight against misinformation is considered necessary because in that way a fairer society is being built, Vukojevic from the University of Banja Luka points out and says that the media should avoid innuendo, by speaking the facts and asking the right questions. Abuses of history are most often linked to ethnic or national issues, so one needs to be careful - politicians often deliberately ignore historical facts in order to flatter their electorate, trying to portray themselves or their people as victims or heroes. Verified sources should be used or a neutral expert should be consulted to clarify concerns."
The use of historical facts in public speech is particularly present in post-conflict societies such as Bosnia and Herzegovina. An unkindly attitude towards collective memory as well as the lasting psychological effects of violence complicate the reconciliation process, which can take years or even generations, academic debates say. "Nationalist elites perpetuate polarization by propagating one-sided narratives about the conflict... In turn, mass opinion can constrain leaders who seek to ease tensions. This kind of vicious circle can be found in a number of societies that have suffered through a civil war or are engaged in an ongoing conflict... Where both sides of a conflict are subjected to narratives of victimization and nationalist rhetoric, former adversaries are unlikely to reconcile… Political and social psychologists have studied how hostile attitudes, once established, can be mitigated in order to enable reconciliation."[3]
Speaking publicly about the facts from the past actually desirable?
Dealing with the past is being promoted today with the aim of preventing the recurrence of "armed conflicts, overcoming animosity and ensuring a more secure future", according to a paper of the Helsinki Committee for Human Rights in Republika Srpska[4].
The process of dealing with the past, which is a formal obligation and commitment of the institutions in BiH, remains a key step in establishing a stable and lasting peace in the country. "Fact-finding and truth-telling" is one of the basic mechanisms of transitional justice, as stated in the draft strategy initiated by the BiH Council of Ministers in 2009, which has not been adopted to date due to a lack of political will. Research has shown that "politicians are the least trusted by citizens when it comes to reconciliation, and moreover, they provoke mutual hatred in everyday rhetoric."
Experts believe that different interpretations of the recent past and attitudes towards collective memory continue to burden the country's social, political and economic development, deepening the gap between generations of young people belonging to different ethnic groups. Youth radicalization is an inevitable consequence of such circumstances.[5]
---