Journalists Should Feel Responsibility and Combat Hate Speech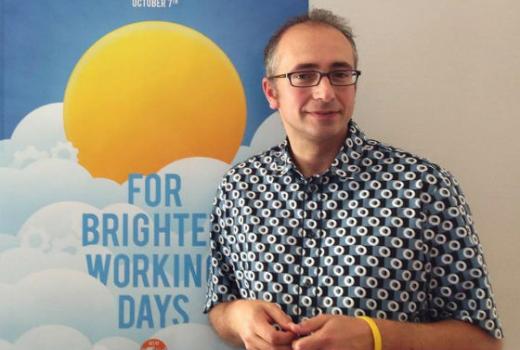 Journalists Should Feel Responsibility and Combat Hate Speech
Speech by Ricardo Gutiérrez, General Secretary of the European Federation of Journalists, on the Digital challenges to editorial integrity.
foto: facebook
Combating hate speech is a new challenge for journalists. We live in a world marked by rising hatred and extremism and rising intolerance and discrimination.
There is hate speech against groups such as Muslims, Jews, Black people, Roma people. There is anti-gay propaganda and discrimination against ethnic or religious minorities, considered as scapegoats for the economic crisis. This world needs, more than ever, accurate and truthful media.
The need for responsible reporting has never been more difficult, considering the social and political climate, and considering the digital age. That is why it is the responsibility of the media to promote ethical standards and professional skills.
When talking about online hate speech, there are several ways that should be considered in order to see how social networks influence the way journalism works.
Twitter is a very popular tool for journalists. The platform is also used by extremists. Following a recent report issued by the Unesco, fifty thousand Twitter accounts support Daesh, the so-called Islamic State, with an average of a thousand followers.
On Facebook sometimes people – "FB friends" – react to some news. One year ago, a former French minister, Charles Pasqua, died. You can imagine I am not really comfortable with the reaction of one of my Facebook contacts... Fireworks to celebrate the death... That's the kind of thing you can find on that social network.
Online hatred is not only a professional concern. Politicians are now dealing with the issue too. The European commissioner in charge of Fundamental Rights, Frans Timmermans, organized recently in Brussels a seminar on antisemitism, islamophobia and hate speech. Online hatred is also a legal concern. Just after the Charleston killings, one year ago, some media and some journalists call on the US authorities to outlaw hate speech. Author Dan Gilmor didn't agree. In his view, hate speech is part of free speech.
Indeed, it's a tricky task to judge exactly what is hate speech. At the European level, there is no accepted global definition. Maybe you remember this controversy. Again, just after the Charleston shooting, some extreme racist comments were posted on the online discussion forum Reddit, very popular in the US. Some Reddit users strongly supported the terrorist, Dylann Roof. Talking about Dylann Roof, one Reddit user wrote: "He is no different from me". Another commenter called the shooter "one of us".
Despite the extreme and shocking nature of these comments, they're perfectly legal under American law. American law protects people's ability to express all sorts of views, including views in support of crime or violence.
The world of online hate, long dominated by website forums like Stormfront and Vanguard, has found a new home on the Internet. The view of the European Federation of Journalists is that censorship is never the right answer. It is not the right answer to hate speech as it is not the right answer to propaganda. I strongly welcome the latest UN resolution on the protection of human rights on the internet, reaffirming that "the same rights that people have offline must also be protected online". And I strongly welcome the fact that attempts to weaken the resolution led by Russia and China were rejected.
What can journalists do?
Sometimes, the journalist is the target of online hate speech. Dunja Mijatovic, the OSCE Representative for the Freedom of the Media, is regularly campaigning against online threats, particularly those targeting female journalists. In such a situation, the only efficient reaction is to report the threat to the police. And to make noise about it. Name and shame.
Responding to online hate speech cannot be easily addressed by relying upon state power.
Identifying and prosecuting all individuals posting hateful messages would be impossible.
Another option is to put pressure on social media networks. They have an interest in maintaining a clean image. That's why most of them are responsive to pressures from journalists, civil society groups, or journalists' organisations.
The European Center for Press and Media Freedom has launched an alarm Centre for female media workers, where they can inform them about attacks against them and seek help or advice. Threats can be reported via encrypted messaging. The emails will only be opened by female staff at ECPMF headquarters, who will take care of the cases reported. We encourage all women to report attacks. Not only to seek help, but also to make the dimension of attacks against journalists much more visible.
Practicing journalism is also a very efficient option to counter hate speech. One of the best ways to counter online hate speech is to cover it as a news item. Some expert journalists are dedicated to this task, like Hate Speech International, a group of journalists affiliated to the Global Investigative Journalism Network. They publish a very interesting "Hate Speech Monitor".
At the EFJ, there is an interesting tool, very simple to use in the newsroom, by every single journalist. It's a five-point test, developed by the Ethical Journalism Network. The idea is to help journalists to identify hate speech, to report (or not) with the required distance and to avoid any manipulation.
The tool is rather simple: five questions
Who is the speaker? What is his position or status? Journalists must understand that just because someone says something outrageous that does not make it news! Journalists have to check the status and reputation of who is saying it. When people who are not public figures engage in hate speech, it might be better to ignore them. Even when people are public figures, journalists have to make sure they are not instrumentalised by politicians or community leaders to spread gossip or encourage hostility and violence against any particular group.
What is the reach of the speech? Is it a private conversation? Or is it a speech disseminated through mainstream media? The private conversation can include unspeakable opinions but do little harm. So, no need to spread it. On the contrary, a deliberate and widely disseminated hate speech must be reported, with the required distance.
What is the objective of the speech? A well informed journalist will immediately identify a speech intended to attack specific individual or groups. The journalist's duty, in such a case, is to place the speech in its proper context, to disclose what the real objectives of the speaker are.
Is the speech dangerous? Lots of people have offensive ideas. That's not a crime. And it's not a crime to make these opinions public, on the internet and social networks. But some words sometimes can be subject to criminal sanctions, if they incite violence. In such a case, journalists could find themselves facing prosecution for quoting a speech inciting others to violence.
What is the global context of the speech? Journalists must take into account the public atmosphere at the time the speech is being made. The same speech during an academic debate on migration or during a political debate in an election campaign will not have the same impact. It is important for journalists to ask themselves: what is the impact of this speech on the people immediately affected by the speech.
Journalists should not sensationalize on hate speech stories. Ethical journalists must consider the impact of publication, particularly the danger of incitement to violence. Journalists should avoid a rush to publish. It is always helpful to pause, to reflect on the content of the story, to ask a colleague for his views on the story. Journalists must feel responsible. They should consider to counter the dissemination and impact of hateful messages online a part of their mission. Journalists should not become foot-soldiers for extremism and hateful politics. They must be alert to the dangers of hate speech and the risk of manipulation. Journalists also have the responsibility to avoid making the situation worse for the victims of discrimination.
We don't need new codes of conduct. We don't need legal regulation limiting the rights of journalists to report freely. We need to stand up for ethical journalism and to improve the working conditions in which journalists work.
The European Federation of Journalists represents 320 000 journalists in 43 countries through 68 unions and associations. Ricardo Gutiérrez is the General Secretary of EFJ. He spoke about the Digital challenges to editorial integrity at the St. Petersburg conference "The role of Editorial Standards in Safeguarding Independent Journalism" hosted by the Russian Union of Journalists and the European Union on July 5, 2016.