How a BiH Media Company Got On the US Sanctions List
How a BiH Media Company Got On the US Sanctions List
photo: atv
Formerly synonymous with free journalism with a critical view of social events in Bosnia and Herzegovina, Alternativna televizija (Alternative Television) from Banja Luka has been under US sanctions since January 5 of this year. A statement from the US Treasury Department called Alternativna televizija Dodik's personal media outlet.
Alternativna Televizija d.o.o. Banja Luka (ATV), a media outlet based in Banja Luka, RS, is privately owned by a company closely linked to Dodik's family. However, Dodik himself exerts personal control over ATV behind the scenes, such as by requiring personal approval on media stories related to politically sensitive topics. Dodik acquired ATV to deliberately and expressly further his own agenda, which includes his efforts to denigrate other political figures, burnish his public image, and advance his own personal and political goals," stated the press release.
It is further elaborated that Dodik made sure all ATV-related contracts are awarded directly to members of his family, which he has allegedly used as yet another avenue for corruption.
He has funneled money directly from public companies to ATV for corrupt purposes. Dodik has substantially increased funding for ATV in recent years and engaged in malign social media influence campaigns through ATV to publish content that advances his political and personal goals. ATV is being designated pursuant to E.O. 14033 for being owned or controlled by, or having acted or purported to act for or on behalf of, directly or indirectly, Dodik," the US Government press release reads.
In an interview for Nezavisne novine and Oslobođenje, the US Ambassador in BiH Eric Nelson additionally clarified why ATV was under sanctions.
"As an American entity, we are not allowed to do business with ATV, but it is very important to understand that ATV is not being sanctioned as a media company, but as a corrupt company controlled by Dodik and his family. Through it, Dodik directed tenders to go to his children, public tenders related to ATV, and it is a corrupt business unit. This is not about judging the integrity of journalists, but a corrupt business unit," Nelson said in the interview.
ATV has already felt the first effects of the sanctions. The American tech company Google has blocked the ATV accounts on all its services, starting from YouTube, Analytics and AdSense, and they will soon be removed from the search engine as well. Facebook is expected to follow suit. ATV denies any connection with the Dodik family and sees the sanctions as a blow to democracy.
"As we have already announced, we are surprised, not only by this precedent and the introduction of sanctions against one media outlet but also by numerous general and unfounded phrases that explain them. Bringing the ownership of ATV in connection with the Serbian member of the Presidency of BiH Milorad Dodik or any other politician is completely ridiculous and represents tendentious attempts to destroy the image and brand of ATV – a television that has been successfully and independently pursuing its editorial policy for 25 years, and shall continue to do so in the future," ATV Director Srđan Kevac said for Mediacentar Sarajevo, emphasising that he finds it unthinkable to sanction any media outlet in such a way.
"This is primarily a direct blow to democracy, media freedoms and the freedom of speech, and then an unprecedented attempt to discredit and target ATV with the goal of suffocating and shutting us down. The truth cannot be censored or banned, and we will continue on the path we have set out on. Our only judge can be the public and the audience to which we are responsible, as is the case for any other media outlet," added Kevac.
Established as an independent media outlet
In June 1997, the signal of ATV, a media outlet created as a subsidiary of the Open Broadcast Network (OBN) project, established by the High Representative of the International Community in BiH with the aim of creating neutral and independent media, was officially aired. As part of that project, Alternativna televizija was first an OBN correspondent office and later began developing independent programming.
A report of the then High Representative for BiH
, Carlos Westendorp, to the General Secretary of the United Nations stated that the third phase of the development of the Open Broadcast Network was being planned for, while in the second phase, which was well advanced, pledged six million US dollars for Alternativna televizija, which later became privately owned.
For years it was one of the most-watched television stations in Republika Srpska and Bosnia and Herzegovina, and the turning point was at the end of 2017 and the beginning of 2018, when the company
Integral inžinjering, owned by businessman Slobodan Stanković
, who is directly linked to SNSD, became the new owner of the television.
With the change in the ownership structure, there was also a turn in the editorial policy. Andrea Matić, a former journalist of the media outlet who did not stay for long, was first appointed editor-in-chief of the Information Programme and was replaced by Nenad Trbić, who returned to the media sector after serving as an advisor to the Minister of Physical Planning, Construction and Ecology of RS, Srebrenka Golić.
During that period, a number of editors and journalists left ATV, and from once a sharp critic of the government, it became in favour of the ruling SNSD party and a sharp critic of the opposition or any social movement, even individuals who found themselves in opposition to the said party.
"From the moment the news about the change of owner, i.e., ownership, leaked, one could expect where the orientation of that television would go in terms of programming. The people of Banja Luka, of course, know very well what that television was like in the beginning. However, what ATV has become in the last few years is far from professional," believes Marko Divković, president of the BH Journalists Association.
One of the former journalists of ATV, Vladimir Kovačević, says that there is a huge difference between the former and the current ATV.
"These are two different televisions, only their name is the same. About 15 years ago, like any other media, ATV had its flaws, but at that time it was perhaps the only major media outlet that reported critically on both the government and the opposition in Republika Srpska and BiH, and in which it was possible to do your job somewhat independently. What we have today is not ATV, they are in the same building and have the same name, but it is not ATV", said Kovačević, who himself felt "how far the professionalism of this media house has come."
After the attempted murder of Kovačević in August 2018 when he was beaten in Banja Luka, only three days later, ATV published an article on the website of the Belgrade tabloid Informer entitled "Creeping coup d'etat" stating that Kovačević had received
$80,000 from USAID to develop an internet portal
, in the context of a story about the overthrow of the government in Republika Srpska. The case came to court and the judge of the Basic Court in Banja Luka Dean Trivić assessed in the verdict that it is indisputable that the text stated untruths that Kovačević received any money, but that the Court concluded that there are no elements of damage to reputation and honour.
"When they published all that about me, I was especially struck by the fact that it was published by my colleagues with whom I worked for 5-6 years and some of them, without false modesty, taught me the job. These people are still working today, no longer as journalists, but as spokespeople of the ruling party. The very fact that I worked on ATV and with these people and that they published such a text, without anyone even calling to ask if it was true or not before publishing the information, was even more devastating," added Kovačević, who is currently working as a journalist for the Serbian Diaspora Television (TSD).
Alternativna televizija changed its ownership structure several more times. First, one of the co-owners was Mile Radišić, who bought shares from businessman Slaviša Krunić a month before Krunić was killed, and according to the latest information, the current owners of ATV are the companies K-2 AUDIO USLUGE and Infiniti media, one of the subsidiaries backed by Prointer.

Excerpt from the portal Registar poslovnih subjekata (Register of Business Entities)
At the same time, via public calls for the provision of reporting services published by public
companies from 1 st January 2021 to 11 th September 2021, ATV was awarded 24 contracts for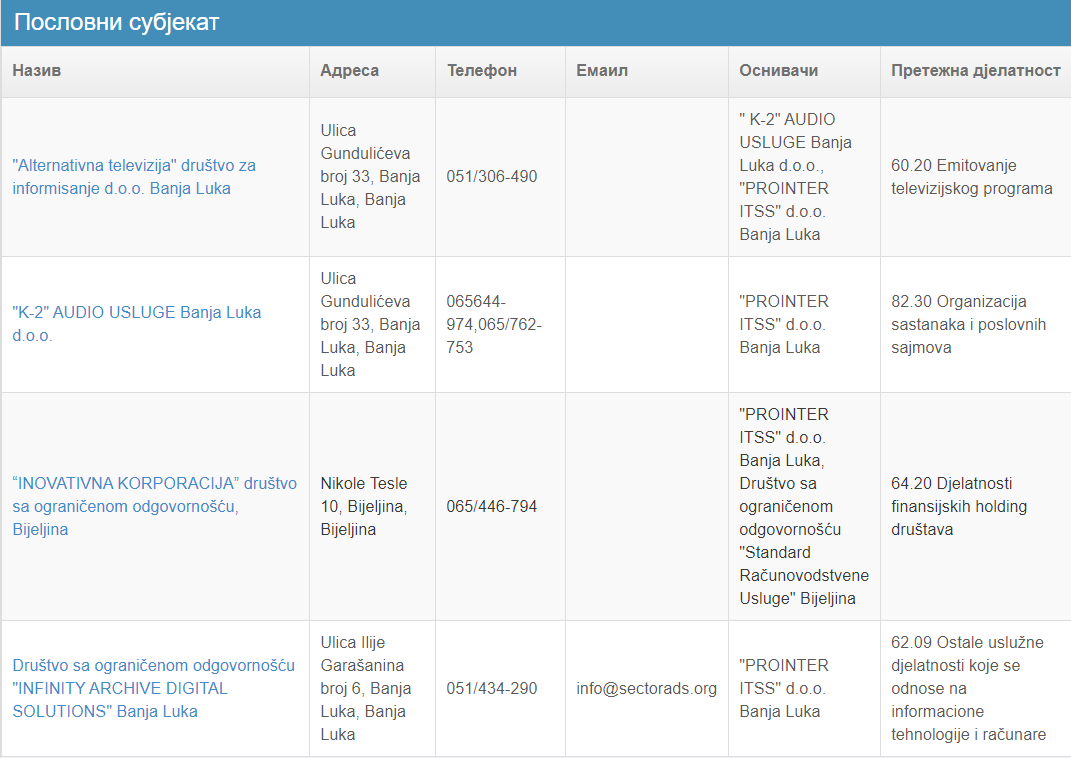 Excerpt from the portal Registar poslovnih subjekata (Register of Business Entities)
Due to its links with SNSD and its president, Milorad Dodik, ATV found itself on the US sanctions list as the first media outlet from BiH to be under such sanctions. According to this decision, all assets owned by the media entity in US territory shall be blocked, and US citizens are prohibited from all transactions with ATV.
Journalist community opposed to sanctions, but aware of ATV's bias
The Association of Journalists of Republika Srpska strongly condemns the sanctions against the media outlet, stating that it is a matter of stifling media freedom and freedom of expression.
"The provision from the explanation that our colleagues are connected with some politicians in RS and, as they say, that they were financed in some way from corruption scandals, is quite strange and even humiliating. We are in principle of the opinion that all media have the right and should function until their right is revoked in a judicial decision, until they are proven to have a direct connection with some illegal sources of funding, or until, say, the Court of Honour or any professional association determines that this is a media outlet that grossly violates all ethical provisions of the Association of Journalists and our journalistic community ", said Branimir Đuričić, President of the Assembly of the Association of Journalists of RS.
Đuričić added that ATV is the first media outlet to be sanctioned in this way and that it is still undetermined whether the suspicions of its association with corruption affairs are at all founded. Regarding its reporting style, Đuričić says that there is bias.
"Their problem is bias and that is not in question considering the overall situation where, unfortunately, most media outlets have taken the approach of supporting one political option or another, or an economic policy or any source of funding they may have. I responsibly claim and I will always emphasise that ATV is no exception when compared to numerous media that are financed from who knows what sources. We in the journalistic community know that some are financed from certain corruption scandals, unfortunately, I guess, maybe even drug trafficking, human trafficking, or maybe even war equipment, but this cannot be proven and, in that sense, we must be extremely careful," concludes Đuričić, who works as a journalist for RTRS.
Retired Tuzla reporter Marko Divković says that he is not surprised by the sanctions imposed on ATV, considering everything that has been going on around this media outlet. However, he believes that this way of sanctioning is not good.
"I am not happy for two reasons. First of all, I am not happy when a media outlet is connected to any political option. That in itself, from a professional point of view, is not good. Also, any form of sanctions, whether it comes in this way, from the point of view that it comes from the most powerful country in the world or some other way, does nothing good for that media outlet," says Divković, adding that ordinary employees of ATV are the least responsible for this situation and should in no way bear the blame and consequences.
"The decisions are made by the employer, i.e., people in charge, meaning the editors and the director. Unfortunately, I'm afraid all of it is coerced. I am just curious to see how my colleagues will handle this in the future in the business sense because I fear that there will be some unpleasant consequences," Divković notes.
Vladimir Kovačević, although still bitter about his own case, says that ATV should have been drastically punished by local courts and regulators, not by the US.
"Alternativna televizija is a media outlet that, in principle, does not do professional media work, primarily journalistic work, and does not work or report in the interest of the public, but reports and works exclusively in the interest of one political group. I believe that, if Bosnia and Herzegovina was any kind of country and if the CRA was headed by independent people who do not depend on politics, ATV would be by now, if not shut down, then at least severely punished and brought to the right path. ATV is not the only such media outlet, there are others, but it has been in the lead in the last few years after they entered into a direct relationship with the SNSD," believes Kovačević.
The CRA of BiH has already intervened several times when it comes to the mentioned media outlet. According to information from the register of executive measures imposed by the Communications Regulatory Agency (CRA), which is publicly available on the Agency's website, Alternativna televizija has been issued five fines/measures – one written, one verbal warning and three fines in recent years in the total value of BAM 5,000. Although it is not visible in the register, a CRA report from 2018 states that
ATV was fined BAM 34,000
for rebroadcasting the show "Ćirilica" produced by the Belgrade TV Happy. Following the appeal, the fine was reduced to BAM 27,000.
Among the mentioned penalties is arising from the report of the then Minister of Security of BiH Dragan Mektić, when it was announced that he did not approve the use of helicopters of the Armed Forces of BiH for fighting wildfires, in which case the CRA decided that the
code on audio-visual media services
was violated because Mektić was denied his right to respond to the allegations.
A month ago, Alternativna televizija became part of another scandal when the former member of the Banja Luka City Assembly Ivan Begić, after an explicit video was published because of which he withdrew from politics, announced lawsuits against the leaders of Alternativna televizija for, as he stated, several criminal offences related to the criminal offence of blackmail.