Jelena Riznic: Revenge porn should be legally treated as violence against women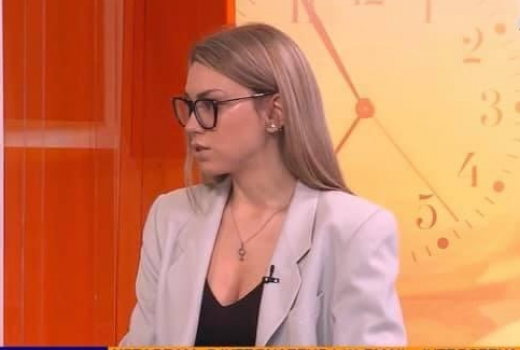 Jelena Riznic: Revenge porn should be legally treated as violence against women
Unauthorized recording and distribution of recordings of explicit content of a sexual nature, should be recognized in the law as a form of violence against women, said Jelena Riznic, sociologist, activist and member of the female collective "Female solidarity" from Serbia.
In an interview after the regional webinar "Revenge porn: A digital threat exacerbated by the pandemic", Riznic spoke of examples of revenge pornograhy and explains what should be the response of different part of the society.
What is revenge pornography and why is it on the rise?
Revenge pornography is any unauthorized recording, as well as unauthorized distribution and threat of distribution, of explicit content of a sexual nature, which is sometimes taken with consent (although often without it), but consent is not given for its distribution. The new pandemic reality we are living in has forced us to move most of our activities into the online space, i.e. to the internet, which has led to a rise in digital violence against women and girls. However, even without the pandemic, internet use is a completely normal activity for everyone, especially the new generations, and it is therefore not surprising, according to an Autonomous Women's Center survey, that every tenth female high school student has had someone upload a picture or video that she sent in confidence.
Why is the discovery of a large exchange of pornographic content on the Telegram app, mostly by Balkan men, an important case that illustrates the scope of revenge pornography? And is there a connection between child pornography (which appeared in this case) and revenge pornography?
I believe that it is crucial to underline that this is not an isolated case, it is not some kind of incident, but it is certainly connected with a broader problem. That problem is called patriarchy, in which it is entirely normal for a woman's body to belong to everyone but women themselves. Such groups send the message to girls and women that they are not safe anytime, anywhere or with anyone and this affects all women – the idea that they cannot have basic trust in their environment.
As for the connection between revenge pornography and child pornography, that connection is clear to me because I believe there is no such thing as good pornography – every kind of pornography is documented violence (as demonstrated by the fact that big corporations such as PornHub profit from videos of violence against women and children, since they make up more than half of the overall content on these sites).
What are the consequences for the victims and how can they be protected?
The victims suffer multiple pressures and a telling indication is the reaction of the public after the revelation of the abovementioned Telegram groups. It could often be heard that it is the victims' fault. However, as that is another kind of violence against women, it certainly cannot be the victims' fault. We will help the most by creating an atmosphere in which this stand is normalized and in which the victim feels empowered enough to speak out about their experience with violence.
What can be done on prevention? The role of Prosecutor's Offices?
In terms of prevention, it is crucial to recognize revenge pornography as a form of violence against women. That would mean adding a specific article to the Penal Code so that lawsuits will be filed ex officio (instead of on private initiative, as now). In addition, it is very important for all institutions to have awareness of the subject of violence against women – education sector, judiciary and police, as well as the media. The education sector should respond to new trends by introducing a special course in schools related to digital literacy, including digital violence; the judiciary and police officials should have awareness on how to work with victims of violence; while the media should report on these issues adequately rather than using sensationalism. This will send an unequivocal message both to victims that it is safe for them to speak about their personal experiences and to perpetrators that such conduct is inadmissible.
What can you tell us about comparative experiences and practices in the region in curbing this type of digital violence?
Revenge pornography is not recognized as a specific felony in any of the countries in the region, as is the practice in, for example, many European and world countries. France, Italy, Germany, Malta, and also Australia, North America, Israel and Japan, are just some countries that have officially criminalized revenge pornography. I think that various organizations and groups in the Balkans have a very important role in putting pressure on governments to really declare it a felony, but to also work on prevention.