BiH: Winners of EU Award for Investigative Journalism announced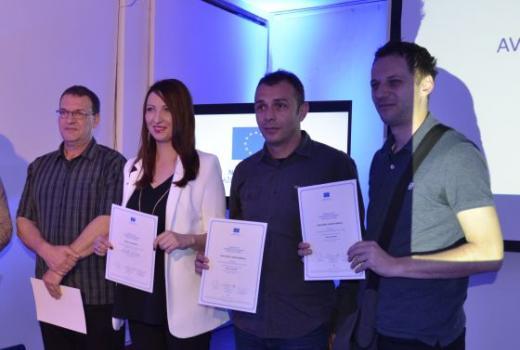 EU Award for investigative journalism for Bosnia and Herzegovina was awarded today at the Museum of literature and theatre in Sarajevo.
First prize in this year's contest for EU award for investigative journalism, was awarded to Avdo Avdić and Davor Obrdalj from Žurnal magazine, for their investigative story "The ruler from the underground". Second prize went to Amarildo Gutić, also of Žurnal magazine, for his documentary "Terma". The prize for best young investigative journalist was awarded to Merila Dizdarević, for her work on the story "The Bosnalijek Affair: Cure called profit", which was broadcast as part of FTV's political magazine "Mreža".  
 
The decision was made by jury consisting of Boro Kontić, Belma Bećirbašić, Helena Mandić, Tanja Topić and Zoran Ivančić. This year, 64 investigative stories were nominated.
 
"The Award shows how much we value investigative journalism. Free, diverse and independent media are indispensable to promoting and protecting democracy worldwide", said Khaldoun Sinno, deputy Head of EU Delegation to BiH. "Freedom of expression is a key indicator of a country's readiness to become part of the EU;, he added, emphasizing that Bosnia and Herzegovina had the highest number of nominations this year, 64 out of 237 in the whole region, and that the jury didn't have an easy task.
 
Borislav Kontić, director of Mediacentar Sarajevo and chariman of the jury, said that, in addition to the sheer number of nominations, the quality of stories proves that investigative journalism in BiH is guided by professionalism that shows the country is a developed, European media landscape.
 
"The content of the stories suggests that misuse of privatisation and control over energy resources seem to be main topics of investigative journalists in Bosnia and Herzegovina, but also the main target of local bandit politics. Journalist Merila Dizdarević managed to tell a complicated story of privatization in simple terms and to explain the complex mechanisms of arranged transactions, money laundering and government silence. Amarildo Gutić's story speaks about the dark side of local politics, about corruption, in an interesting way. First prize winners Avdo Avdic and Davor Obrdalj worked on a story detailing a journey into the center of this country's arrogant, irresponsible and mericelss politics", concluded Kontić.
 
Authors of the winning story thanked their more experienced colleagues and said that the main reason they are happy about receiving this award is that their story will now reach a wider audience, since none of the local television stations wanted to air it when they first offered it. Their documentary tells the story of Mirsad Kukić, vice president of SDA and president of Tuzla Canton board, who was convicted of economic crime.
 
Amarildo Gutić, author of the documentary "Terma", about the illegal award of contracts in TE Gacko, emphasized the value of cooperation between newsrooms in investigative journalism. "I feel the need to thank my colleagues and co-authors of the film, Milanka Kovačević and Slobodan Golubović of website Moja Hercegovina, who prove that, even in this often vain profession, cooperation between two newsrooms can be fruitful", said Gutic in his acceptance speech.
 
Merila Dizdarević, winner of the best young investigative journalist award, said she was greateful for the honour and also praised the importance of team work in investigative journalism. "There are no good stories without team work. Thank you to the editors, the journalists, the cameramen and to our sources, who continue to trust us and to respect our work", said Dizdarević.

The EU Award for investigative journalism aims to celebrate and promote outstanding achievements by investigative journalists and to expand visibility of quality journalism in the countries of West Balkan and Turkey.
 
The EU award for investigative journalism is awarded  in each of the seven EU-Enlargement countries: Albania, Bosnia and Herzegovina, Kosovo, Macedonia, Montenegro, Serbia and Turkey, for works published in the period between 2014 and 2016. The total award fund for all seven countries is 210,000 euro.
 
The award in Bosnia and Herzegovina is coordinated by Mediacentre Sarajevo, while the regional partnership is headed by Peace Institute in Ljubljana.