Three-day workshop "Balkans Voices" completed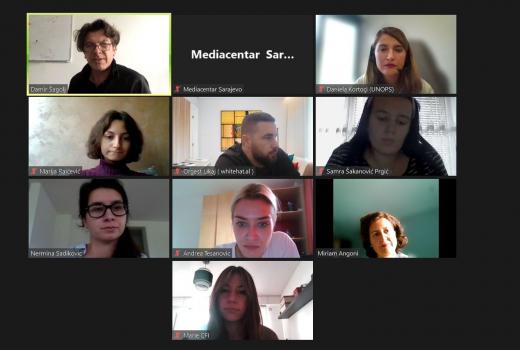 A three-day workshop "Digital Media Program" for young influencers, podcasters and bloggers from Albania, BiH, Montenegro, Kosovo, Serbia and North Macedonia has ended in Sarajevo. The workshop, organized by Mediacentar Sarajevo, as part of Balkans Voices, youth regional project run by Canal France International and supported by the French Ministry of Europe and Foreign Affairs, aimed to offer skills and knowledge to young influencers dealing with socially useful topics on how to reach a larger audience and protect your information and prevent hate speech in comments.
Mr. Sylvain Rigollet – Cooperation Attaché at the French Embassy in Sarajevo, welcomed the participants and highlighted the relevance of training and capacity building for young media players in view of strengthening media freedom and freedom of expression. The first part of the workshop was dedicated to understanding current market trends, diversity of marketing styles and strategies, and participants learned the basics of market research, getting to know the audience and competitors.
Young people had the opportunity to learn about understanding current market trends, diversity of marketing styles and strategies. How to get to know your audience and competitors are just some of the topics that young people were told about by experts in those fields. Workshop participants also had the opportunity to learn the basics and ethical views of journalism from journalist Stefan Goranovic. How to make a good photo and why it is crucial for the promotion of content and reaching the audience, the young people were advised by world-renowned photographer Damir Šagolj, winner of the Pulizer and World Press Photo award.
Since participants are influencers, podcasters and bloggers, and have a large audience with a tendency to grow, the focus of audience building learning is also on educating the audience to raise awareness of stereotypes such as gender stereotypes.
This is the fourth workshop "Digital Media Program", which is being held online due to the epidemiological situation. Initially, the plan was for workshop to be held for the second time in Sarajevo, given that previous workshops had been held in Sarajevo and Podgorica.
The selected best participants will be further trained during an incubation week on new media, which will be organized in Paris, with the support of Canal France International, followed up by a six months internship program.
It will be an additional opportunity for participants to gain additional skills and knowledge to make their work socially useful and to use their popularity to break down stereotypes among their audience.