A Decade of Failures: BHRT – Employee Surplus and Poor Results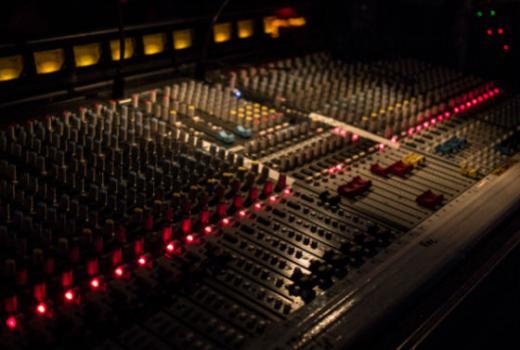 A Decade of Failures: BHRT – Employee Surplus and Poor Results
Despite hundreds of employees at BHRT, viewership is declining, collection of RTV tax has been reduced, and the company owes millions.
A total of 875 people were employed at BHRT in 2015 and the company spends 50 percent of its budget on employee salaries. The average net salary at BHRT is around 800 KM, roughly the amount of the average salary in the country. However, with an unnecessarily large number of employees and rundown equipment and premises, BHRT is "gulping down" money.
The 2014 report says that 30-40 people are involved in making five-minute news, while 50-70 employees are involved in making the third news show (Treći dnevnik) – half in preparation from the BHT1 News Program and half in production and broadcasting from the Production and Broadcasting Department.
Every person who once worked for a television system knows that these figures are substantially "pumped up". An example is Dnevnik 2, broadcast on 7 July 2016. In that show, there are five items (packages) produced in Sarajevo, two in Banja Luka, and one containing world news. In addition, the content also includes six so-called offs (off the vision) – texts read out live by the presenter and "covered" by footage. A characteristic of this form is that the material goes immediately from being shot into editing and that editing takes a very short time. It consists of simply putting together several frames into a bigger piece. A production team can produce tens of such contents a day. That same day, five hours later, the evening edition of the news does not bring a single new content. There is no change in the order of news, except that several contents are eliminated and the show is shorter. The presenter and team are the same. Therefore, (it appears that) no one did anything in the five-hour shift. And, according to data from the report, 50-70 people work in that shift. In reality, in those five hours on that particular day, three times fewer people worked than was calculated. That is why the BHRT system is today four to five times larger and spends three to four times more than commercial TV stations which at the end of the year have better viewer ratings.
In reality, a commercial company would not use more than 30 people for this job to achieve the same or better result. Of course, you can, if you want to, use even 100 people for the job, but at least 70% of them will be redundant.
The general director explains that the Law provided for a different structure of the BHT1 broadcaster than it is today. BHRT was supposed to have only two newsrooms – sports and news.
"The rest was supposed to be commissioned either from the entity broadcasters or from independent productions. In the meantime, I don't know why – it dates back to 2006, 2007 or 2008 – then managers of BHRT decided that it was not working and that they needed to create more newsrooms. These newsrooms were never fully developed," says Belmin Karamehmedović.
The most numerous BHRT technical departments, such as Production, Broadcasting and Property Management, were supposed to become part of the Corporation. As that did not happen, this fact has been used all these years as an argument that proves redundancy of staff and non-functional work. In reality, BHRT's team is the most numerous one in the field, while usually having a poorer result than others.
"If there is no classification, there is no surplus"
Damir Smital from the BHRT Independent Trade Union, which has 580 workers as its members, does not think that BHRT has surplus employees. He says that 11 years after the passing of the Law, a proper job classification does not exist.
"May someone show me who is surplus and according to which classification," says Smital.
BHRT also has another Trade Union – a branch of the Civil Servants Trade Union, of which 220 BHRT employees are members. The President of Assembly of this Trade Union, Mirsad Bajtarević, says that people have been talking about a surplus of 300 people since the beginning of creation of the Public Service.
"So far, many have retired and others have gone to other media outlets, while the so-called surplus figure is still the same. Well, that's the problem, since everyone is bringing in everyone else, without a vacancy call and without an adequate assessment of needs, and thus there is constantly the same surplus. Unfortunately, no one has an adequate and transparent answer to these and similar questions at BHRT," says Bajtarević.
Director Karamehmedović says that a new job classification is being developed, but he does not know when it will be completed. He explains they had planned to hire external experts to develop the classification, but did not have the money to pay them.
"And so we are working with our own resources; it's progressing, but I don't know when it will be finished," explains Karamehmedović.
The Office of the General Director employs more than 60 people and spends around two million KM annually.
Small investments in program quality
Many years of cutting costs have caused most harm to the program budget, which lost more than 50% of money. Out of 7.5 million KM which it had in 2010, only 3.5 million KM was allocated for the program in 2015.
Viewership measurement also shows that fewer citizens are watching BHRT. Thus, in 2015 BHRT ended up in seventh place among nine measured public and commercial TV stations on the national level.

"We have serious doubts about the quality of research," responds Karamehmedović, the General Director. He says that together with other media he is trying to revise the work of the official viewership researcher.
Nevertheless, Karamehmedović refers to viewership results when he explains why certain programs were broadcast and purchased for years. An example is the purchase of the series "U ime naroda" (In the name of the people), by Josip Pejaković.
A document from 2010 shows that close to 300,000 KM was paid in advance for one season of the series. Years-long cooperation on the project lasted ten years.
Seven years before that, Josip Pejaković was appointed member of the Steering Board of the Public Service of B&H (JSBIH) in 2003, by decision of the Office of the High Representative in B&H. The show "U ime naroda" started showing on BHT in 2006, the year Pejaković stopped being a Steering Board member.
More than 30 million KM was spent on various programs in the last five years. You can see some of these programs and their viewership in the picture. It is interesting that in reports, free programs such as TV Liberty or TV Justice and co-productions and commissioned productions are placed in the same category. That is why it cannot be concluded how much a particular program was paid for compared to the result it achieves.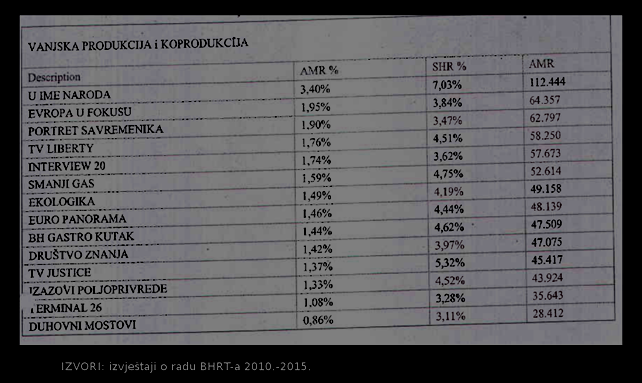 "If someone thinks there was any program fraud in the past, they should report it. Upon my arrival, I introduced the principle of publishing public calls for external productions. Anyone who thinks they have a good product can apply and a commission chooses the program," explains Karamehmedović the changes he introduced.
Public wealth as compensation
It is also interesting how BHRT regularly trades its advertising space. Unable to sell on the market the advertising space in shows it purchases, it has turned it into a commodity which they say they give as "marketing compensation".
In practice, this means that if you bring a show they are satisfied with, in return you can get "advertising minutes" within that product. Then you (re)sell the minutes you receive and get paid for them by third subjects.
"That's also money in a way, which we don't have ourselves to pay," explains Karamehmedović this interesting way of disposing of space created as a result of national wealth – the frequency.
Employee surplus and nepotism
BHRT employees do not seem satisfied. Their view of the situation is not optimistic. They do not want to speak publicly in fear of being fired, complaining of poor interpersonal relations at the company.
Among insiders there are two dominant views on the collapse of BHRT. The first group believes that previous managements and the way they did business are responsible. They would like SIPA (State Protection and Information Agency) to take documentation on the operation of previous managements. They believe the situation can only be changed by completely changing the personnel in the building of the RTV Home, after which a new public service will start being created where people will be hired based on their references.
The second insider view among employees who have been working in the RTV Home for decades speaks about a whole "caste" that was created during decades of intertwining of relationships and connections. About so-called middle management which includes more than 100 various bosses and managers, as well as their private interests that are hiding behind their jobs. This group claims that it is this layer that is keeping the system "chained".
Insiders are often not ready to support their allegations and company grapevine information with evidence. Despite the fact that a whole army of journalists works in the building, no one is offering documented evidence on alleged mishandlings that are talked about in the corridors. They usually argue that state agencies should be doing that.
Director Karamehmedović says it is possible that there are people in the middle management who are not doing their work, but it is also possible that there are bosses who are forcing people to work, which trade unions and others do not like.
As we were collecting information, it became clear that an important trend is that two or more members of the same families are employed in structures of BHRT or the public service. In some cases, insiders counted as many as four employees from the same household.
"Yes, it's true this exists and it hasn't been the case only in recent years," says Mirsad Bajtarević from the Trade Union. He said this is a common practice from the pre-war period. Finding a meal ticket at BHRT is extensively done. Many have brought in their children, some have brought their spouses or relatives, and not an insignificant number of employees have paid to get their jobs. We at the Trade Union have never checked these allegations, but even if we had, I don't believe something could be changed," adds Bajtarević.
This trend is confirmed by the general director. "Yes, there are such trends. We must be fair and admit it, although I think this exists at all public enterprises and BHRT is not specific in that regard, which speaks about this country."
Some members of management, as well as of the Trade Union, have family members who work at BHRT. In the BHRT Independent Trade Union, the only solution they would like to see is full and radical reform, as well as independent audit of the Public Service's business operations in recent years, says Damir Smital, the Trade Union President.
"So that it is established once and for all who owes whom, who is to blame and who is not (to blame) for this situation," says Smital.
"Changes are essential, but I don't see the right mood to reach them. To put it simply, BHRT corridors are full of spider webs and spiders, and their tentacles are everywhere, so tremendous effort will be needed to clean it all up," says Mirsad Bajtarević of the State Servants Trade Union.
It appears that it will ultimately be up to politicians to find a solution to the ten-year saga, because citizens, who seem dissatisfied, have turned their backs on BHRT.
"The situation is serious, not to say critical," says the director, "but we can't be much different from the state and from other public enterprises."
IN THE PHOTO GALLERY you can see more interesting details from reports on BHRT's operation in 2010-2015.
In the first part of this article, you could read: A decade of failures: Public broadcasting service owes millions